Alfabeto Parallelo – Magazine Gattopardo "Aria Fritta"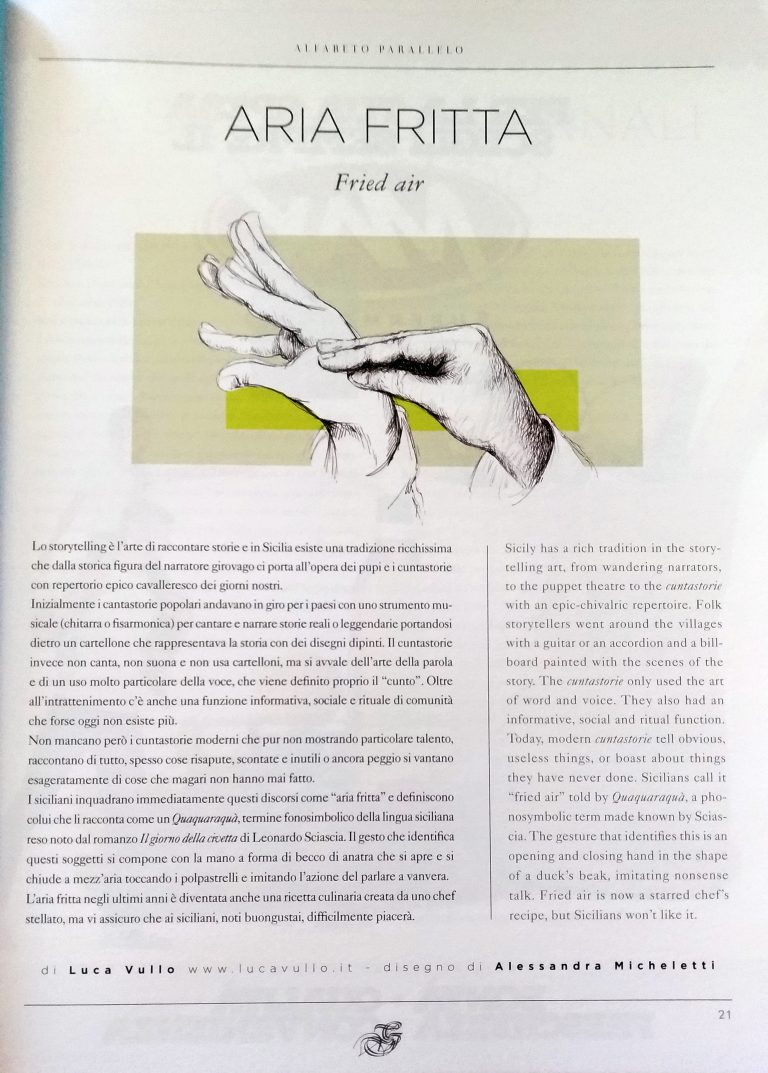 Lo storytelling è l'arte di raccontare storie e in Sicilia esiste una tradizione ricchissima che dalla storica figura del narratore girovago ci porta all'opera dei pupi e i cuntastorie con repertorio epico cavalleresco dei giorni nostri. 
Inizialmente i cantastorie popolari andavano in giro per i paesi con uno strumento musicale (chitarra o fisarmonica) per cantare e narrare storie reali o leggendarie portandosi dietro un cartellone che rappresentava la storia con dei disegni dipinti. Il cuntastorie invece non canta, non suona e non usa cartelloni, ma si avvale dell'arte della parola e di un uso molto particolare della voce, che viene definito proprio il "cunto". Oltre all'intrattenimento c'è anche una funzione informativa, sociale e rituale di comunità che forse oggi non esiste più. Non mancano però i cuntastorie moderni che pur non mostrando particolare talento, raccontano di tutto, spesso cose risapute, scontante e inutili o ancora peggio si vantano esageratamente di cose che magari non hanno mai fatto. 
I siciliani inquadrano immediatamente questi discorsi come "aria fritta" e definiscono colui che li racconta come un Quaquaraquà, termine fonosimbolico della lingua siciliana reso noto dal romanzo Il giorno della civetta di Leonardo Sciascia. Il gesto che identifica questi soggetti si compone con la mano a forma di becco di anatra che si apre e si chiude a mezz'aria toccando i polpastrelli e imitando l'azione del parlare a vanvera. 
L'aria fritta negli ultimi anni è diventata anche una ricetta culinaria creata da uno chef stellato, ma vi assicuro che ai siciliani, noti buongustai, difficilmente piacerà.
FRIED AIR
Sicily has a rich tradition in the storytelling art, from wandering narrators, to the puppet theatre to the cuntastorie with an epic-chivalric repertoire.
Folk storytellers went around the villages with a guitar or an accordion and a billboard painted with the scenes of the story.The cuntastorie only used the art of word and voice. They also had an informative, social and ritual function.
Today, modern cuntastorie tell obvious, useless things, or boast about things they have never done.Sicilians call it "fried air" told by Quaquaraquà, a phonosymbolic term made known by Sciascia.The gesture that identifies this is an opening and closing hand in the shape of a duck's beak, imitating nonsense talk. Fried air is now a starred chef's recipe, but Sicilians won't like it.