Alfabeto Parallelo – Magazine Gattopardo
"Avere la testa a Ichisi"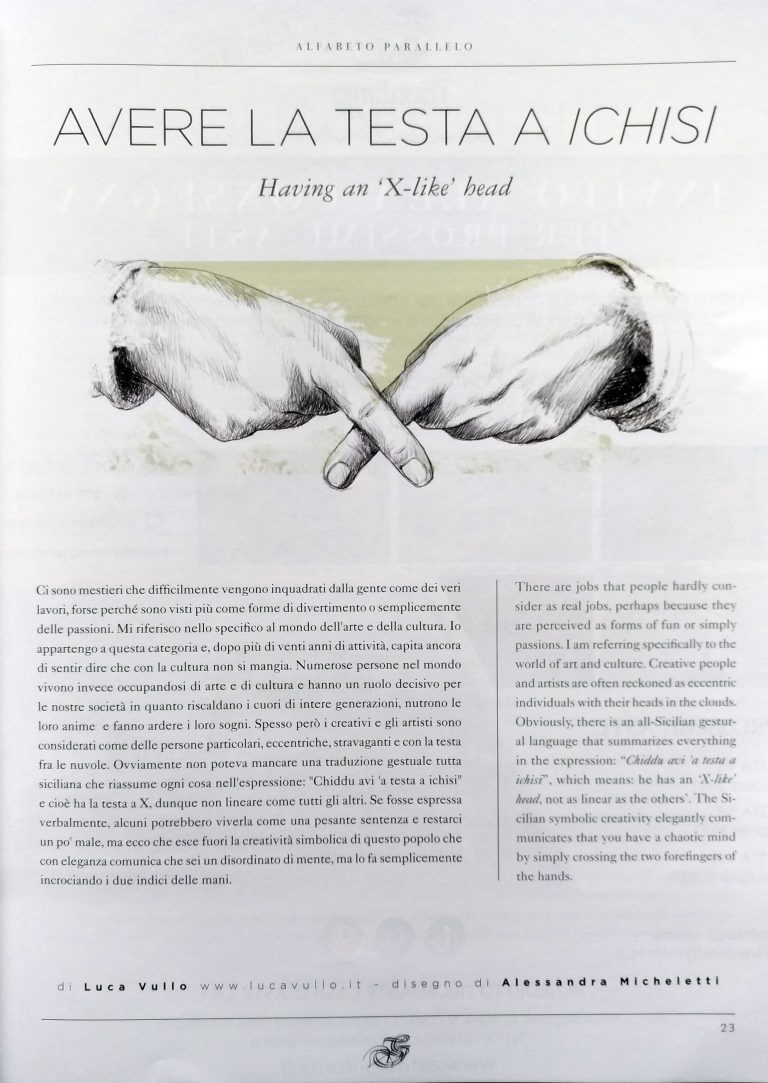 Ci sono mestieri che difficilmente vengono inquadrati dalla gente come dei veri lavori, forse perchè sono visti più come forme di divertimento o semplicemente delle passioni. Mi riferisco nello specifico al mondo dell'arte e della cultura. Io appartengo a questa categoria e,dopo più di venti anni di attività, capita ancora di sentir dire che con la cultura non si mangia. Numerose persone nel mondo vivono invece occupandosi di arte e di cultura e hanno un ruolo decisivo per le nostre società in quanto riscaldano i cuori di intere generazioni, nutrono le loro anime e fanno ardere i loro sogni. Spesso però, i creativi e gli artisti, sono considerati come delle persone particolari, eccentriche, stravaganti e con la testa fra le nuvole. Ovviamente non poteva mancare una traduzione gestuale tutta siciliana che riassume ogni cosa nell'espressione:"Chiddu avi 'a testa a ichisi" e cioè ha la testa ad X, dunque non lineare come tutti gli altri. Se fosse espressa verbalmente, alcuni potrebbero viverla come una pesante sentenza e restarci un po' male, ma ecco che esce fuori la creatività simbolica di questo popolo che con eleganza comunica che sei un disordinato di mente, ma lo fa semplicemente incrociando i due indici delle mani.
HAVING AN "X-LIKE" HEAD
There are jobs that people hardly consider as real jobs, perhaps because they are perceived as forms of fun or simply passions.I am referring specifically to the world of art and culture.Creative people and artists are often reckoned as eccentric individuals with their heads in the clouds. Obviously, there is an all-Sicilian gestural language that summarizes everything in the expression:"Chiddu avi 'a testa a ichisi", which means: he has an "X-like" head, not as linear as the others.The Sicilian symbolic creativity elegantly communicates that you have a chaotic mind by simply crossing the two forefingers of the hands.