Secondo TED talk per Luca Vullo che sarà speaker del TEDx Modena "VISION of SUPER" sabato 3 luglio presso il Teatro Storchi.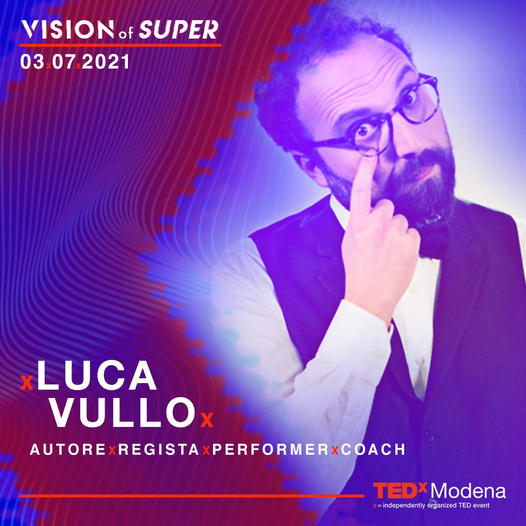 TEDx MODENA "VISION of SUPER" 3 luglio 2021
Luca Vullo sarà nuovamente speaker ad un TEDx questa volta ospite al TEDx Modena che si terrà il 3 Luglio al Teatro Storchi.
Il titolo del suo talk: "La voce del corpo nell'era digitale: per non dimenticare di essere umani".
Il tema del 2021 è  "VISION of SUPER"  visioni e idee che hanno il potere catalitico di cambiare il mondo. Sono leader dell'evoluzione tecnologica e sociale. Gli sviluppi evolutivi nella scienza, nella religione, nell'arte hanno tutti alla loro radice idee della mente che in seguito si realizzano attraverso atti fisici. Le idee hanno il potere di cambiare il mondo e sono le fondamenta di ogni evoluzione sociale.
Ogni sviluppo della comunità umana nella scienza, nella religione o nell'arte nasce nella mente grazie ad un'idea per poi realizzarsi attraverso le azioni.
PRENOTAZIONI BIGLIETTI  https://bit.ly/3cSODX2
CENA DI GALA con speakers, organizzatori e volontari presso Modena Golf Country Club https://bit.ly/3wFUozh